The QNX Neutrino Real-time Operating System (RTOS) is a POSIX compliant real-time operating system from BlackBerry QNX. It is characterized by its microkernel architecture, determinism, robustness and scalability.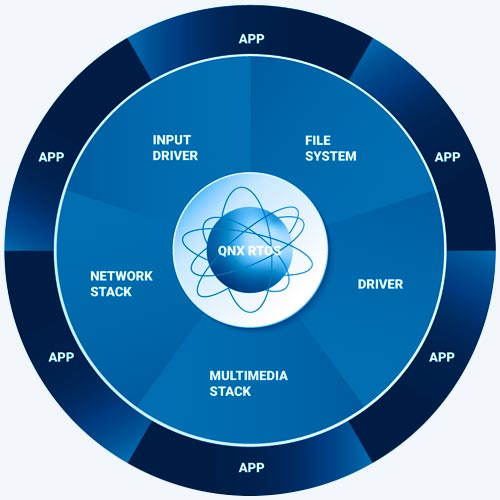 For the development of software for QNX RTOS, BlackBerry QNX offers the QNX Momentics Tool Suite, an Eclipse-based integrated development environment with various tools that provide a deep insight into a QNX target system.
In addition, BlackBerry QNX offers various security-certified products:
QNX's technologies are used wherever real-time capability and reliability are required, e.g. for controlling industrial automation, in medical devices or in the automotive, robotics and transportation sectors.
We are at your service!
You are starting the development of a new product and need an operating system suitable for your target environment? – Feel free to contact IBV and ask for an offer.
QNX Project with IBV
IBV is a QNX technology partner. Since our foundation we have been working on QNX and therefore have profound know-how for the real-time operating system. We offer you everything you need for your QNX project as well as software products especially for QNX.
QNX software products
QNX Board Support Packages (BSPs)
Intel (Altera) Cyclone V, QNX 6.5.0 SP1 (more information on request)